Mark's Award winning mk2 has made a great impact on the show circuit for its relatively short time out (the last two weeks!!)
So let's talk about it… Personally ive known of this car for quite a long time, the previous owner was a customer of Studio Incar also having various audio related upgrades. Strangely enough when Mark first contacted me it was also related to audio wanting a slimline custom sub enclosure solution wich we did, from their things grew… boy did it grow.
A few months down the line, many phone calls etc and a couple of plan's were laid out for the "direction" of Marks mk2, these included full show paint, fitment calcs for the new wheels, and a good old fashioned general tidy up.. Project "The Next Big Thing" was well under way..
The day to do the maths on Marks wheel fitment came, to be able to push the button on the wheels in confidence we needed to know whether they would be killer, or simply weren't going to work..
Then disaster struck, or maybe a blessing in disguise? en-route to the workshop Mark hit a pitch in the road wich completely destroyed his sump. My trusty mk2 was given tow duties and Mark was brought safely back to the workshop where we continued to sort out the fitment and had a chat about the directions of the mk2 with it now obviously having to stay here. By the time we had finished it was decided.
A partially shaved bay and customised Supercharged VR6 motor installation was agreed and the car was left at the studio for work to commence immediately with a deadline of 3 weeks (wich was met!)..
In the mean time Mark had actioned everything we had planned, sorting out custom hubs for the front to 5×112 to allow direct to hub fitment, sourcing adapters to 5×112 for the rear, having the wheels rebuilt and inverted to allow friendlier offsets, tyres and all other arts we were needing to complete a tidy installation..
The beedy eyed amongst you will notice the engine sits an inch higher on raised mounts, the sump is an all alloy shallow r32 item with pump/pick up and custom supercharger return oil feed banjo/union assembly.
the finished (or shall i say finish of stage 1) product is so fresh as a complete package its a very welcome mk2 indeed, so much so it has just scooped BEST MK2 at Westside show and shine event, what a title! one that makes Mark and myself very proud indeed.
cop a load!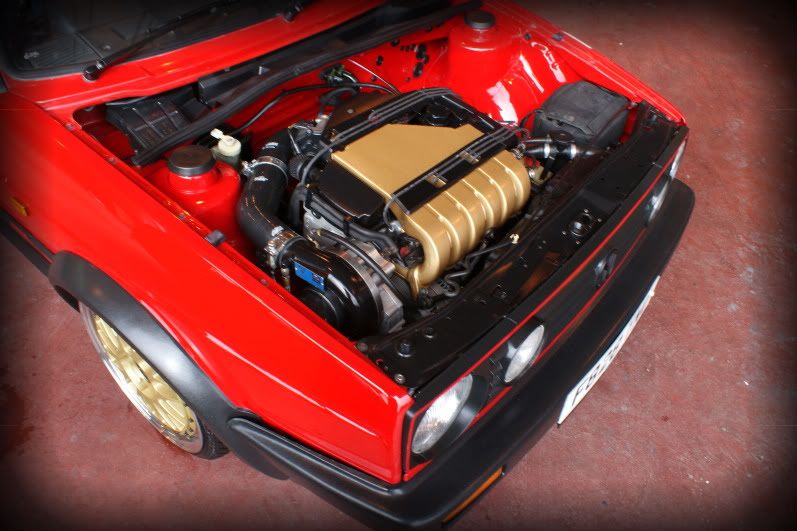 keep your eyes open on this one, it's far from finished yet!!!
Well done Mark, and cheers for the opportunity to work on such a cool car.
shakey.